by KenyanStream
Full Body Massage - What to Expect in Kenya
Nov 18, 2023
Getting a massage is one of the best ways to unwind after anything, really. It's a great way to release tension from your body and entrust someone else with the task of making you feel good. You can never go wrong with a full body massage.
What is A Full Body Massage?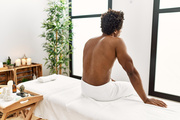 Sometimes, focusing on just one part of your body during a massage isn't enough. Maybe you want to feel totally relaxed or have an overall sense of wellness that covers everything.
A "full body" massage includes many different types of massages that are widely practiced. If you're new to massages, it might be a bit confusing to know what to expect from a full-body session because it involves various techniques.
Besides making you feel lighter and more relaxed, research suggests that a full-body massage can be good for your body and mind. It may:
- Help manage chronic pain
- Speed up recovery
- Improve sleep
- Aid digestion
- Reduce anxiety
- Ease headaches
What to Expect from a Full Body Massage in Kenya
If it's your first time getting a full-body massage, it can be nerve-racking imagining all the scenarios of how the whole thing is going to play out. More so if you're the type of person who's quite protective of your personal space.
You may find it quite a challenge getting naked for some stranger to handle you 'as they please.
During a full body massage, here's what to expect:
Starting Off:

You'll begin by lying face down on the massage table.
Once you're comfy, the therapist will use oil (or sometimes wax or balm, especially for a sports massage).

Focus Areas:

Your therapist will target areas based on your preference, usually covering your back, legs, arms, hands, and sometimes chest and head.
No fixed routine – it depends on your needs, time, and the therapist's approach.

Towel Coverage:

Throughout the massage, you'll be covered by a towel, moved as they work on different parts.
The therapist will check in to ensure the pressure is good for you.

Post-Massage:

After the massage, you'll have some alone time to get dressed.
Best to relax for the day, drink water, and maybe take a warm bath if there's any soreness the next day.

Specific Areas Massaged:

The massage typically covers your back, shoulders, neck, legs, arms, hands, and head/scalp.
Chest massage might be included for sports or deep tissue massage, especially for neck pain.
Stomach area massage is an option – just let the therapist know if you're comfortable with it.
Full Body Massage and Happy Endings/Extras
Now, onto the interesting stuff. What are happy endings in massages or massage extras? Well, let's get nerdy about it.;
-
"A "happy ending" is when a person who is giving a massage chooses to deliberately "stimulate" the recipient's, (male OR female) genitals (and/or breast area) to get the person sexually aroused (and/or usually) cause the client to have a orgasm. The person giving such could be using his or her hands, mouth and/or other parts of their body and/or some other object to achieve such. This must be done after the concent from the client", Sumit Walia.
Now, it isn't just about sex; an erotic massage can be performed with no penetration at all. Getting professional masseurs is the best way to experience erotic massages.
You can find professional masseurs by browsing our profiles. All masseurs are verified and professionals at what they do.